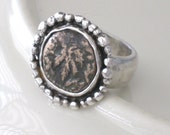 Ancient Coin ring. The coin dates from the First Jewish Revolt in the years 66-70 and I set it in a silver ring which I handcrafted for this purpose.
Historical background of the coin:
It was struck in Jerusalem during the Jewish War between 67 - 68AD.
Following the death of Nero Caesar , the jews in Judaea were discontent with the rule of the Romans, as there was a massacre in 66AD, o...
Click Here to Visit My Etsy Shop!